Readings from the Journal of Researches
Charles Darwin documented his experiences during the voyage of the HMS Beagle in the Journal of Researches, otherwise known as The Voyage of the Beagle. 
The following section contains several excerpts from the Journal of Researches which will help you to appreciate how his understanding of nature and biological processes improved and changed as a result of his experiences during the journey.
The readings include excerpts from Chapter V – Bahia Blanca which documents Darwin's account of fossilised megafauna and their geological setting, an excerpt from Chapter XV – Passage of the Cordillera where Darwin writes about his astonishment at finding fossilised araucaria trees in the Andes, and a description of the Galapagos Islands and the natural history of their inhabitants from Chapter XVII – Galapagos Archipelago.
The excerpts describe Darwin's observations and impressions during the voyage of the Beagle, including not just his observations of nature, but also the people and places visited. The book was published in 1845 and the full title of the work was Journal of Researches into the Natural History and Geology of the Countries Visited During the Voyage of H. M. S. Beagle Round the World Under the Command of Capt. Fitz Roy, R. N.. The book includes 21 chapters and runs to over 400 pages but these selections will give you a feel for the style of the language and the nature of the material that Darwin portrays.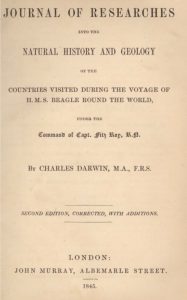 Media Attributions
Title Page of the Journal of Researches